HDD Technology Sdn Bhd
No. 9,
Jalan Ekoperniagaan 1/25,
Taman Ekoperniagaan,
81100 Johor Bahru,
Johor, Malaysia.

+607-2892795

Copaltite
Sealant, Lubricant and Other --- Copaltite ---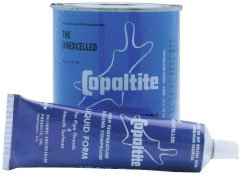 Copaltite High Temperature Sealing
Copaltite high temperature sealing compound withstands temperature range from -315 F to +1500 F.
Used successfully on steam joints at 2000 psi +1200 F, flanges without gasket up to 6500 psi,
and threaded joints holding 10,000 psi.