HDD Technology Sdn Bhd
No. 9,
Jalan Ekoperniagaan 1/25,
Taman Ekoperniagaan,
81100 Johor Bahru,
Johor, Malaysia.

+607-2892795

Graco
Pumps --- Graco ---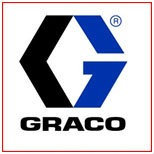 Graco Pump
Founded in 1926, Graco is a world leader in fluid handling systems and components. Graco products move, measure, control, dispense and spray a wide range of fluids and viscous materials used in lubrication, commercial and industrial settings. The Company's success is based on its unwavering commitment to technical excellence, world-class manufacturing and superior customer service. Working closely with specialized distributors, Graco offers products which set the quality standards in a wide range of fluid handling applications, including spray finishing and paint circulation, lubrication, sealants and adhesives and power application equipment for contractors. Graco's ongoing investment in fluid management and controls will continue to provide innovative solutions to a diverse global market. The Company has corporate headquarters in Minneapolis, Minnesota, and employs approximately 2,100 people worldwide.


**Husky**
Air-Operated Double Diaphragm Pumps
Double diaphragm pumps available in size from 1/4 inch (6.3 mm) to 3 inches (76.2 mm)
· Husky 1050 Double Diaphragm Pump
· Husky 1590 Double Diaphragm Pump
· Husky 205 Double Diaphragm Pump
· Husky 2150 Double Diaphragm Pump
· Husky 307 Double Diaphragm Pump
· Husky 3275 Double Diaphragm Pump
· Husky 3300 Double Diaphragm Pump
· Husky 515 Double Diaphragm Pump